Just curious, would you guys prefer to have have a color picker with only 14 options in the WYSIWYG editor, or a color picker with more than 100? The code can be easily installed in a Forumotion board, but before I go any further, I was just was curious what you all would prefer...
Example: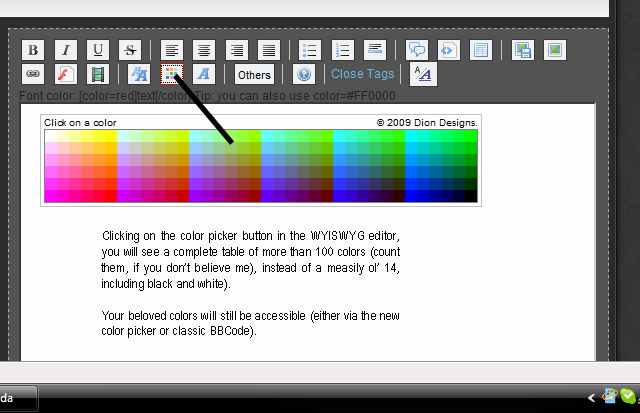 Just as a note: Before we can install this script, I first need to obtain permission from the owner of Dion Designs. This is not my script.
Last edited by DJ Agenda on Thu Jan 28, 2010 2:17 pm; edited 1 time in total
I don't see the harm in expanding our options... Unless people get out of control with those hot pink colors, in which case my retinas might be in danger.

Loki

Guardian Ghost





Join date

: 2009-06-03






Posts

: 2275


Age

: 33


Location

: Ohio




I like options, but I don't use the colors as is. It hurts my eyes to read colored text.

Bird of Hermes

Wraith





Join date

: 2009-10-26






Posts

: 2279


Age

: 29


Location

: The Land of Make Believe




I prefer a 14 scale. As far as I'm concerned not too many people go wild with colours over here (thank God), so its plenty. We're not going to make text-based images, now are we? No? Then I don't see what 100 colours do that 14 don't.

Kestrel

Mist





Join date

: 2009-08-10


Posts

: 49


Location

: New Zealand




I like the idea of having a large variety. The problem with the default colours we have for FoG is that the background is dark grey, so the regular colours are all painful to read against it. With more options, it would be easier to pick colours that don't burn a person's eyes to read against the grey.

Kathryn Lacey

★ Administrator ★





Join date

: 2009-05-28






Posts

: 6968



I agree. At least having the option would be nice. Then I could use some other color that the ugly olive color when I do inner monologues for my character in RPs.
_________________
I have determined
this is FoG's Theme song!

Sunwolf007

Wraith





Join date

: 2009-09-14






Posts

: 2491


Age

: 33


Location

: Greater Grand Rapids area, US of A ( last time I checked)




Well I see this is getting some good opinions.
If any of you are actually interested in
testing
this feature, you can try it out here at my FOG-look-a-like:
http://agendalabs4.forumotion.com/ghostly-guest-tests-f3/color-picker-test-t2.htm
That forum is open for guest posts, so you don't have to be logged in to reply. Feel free to test to your hearts content.

I really don't need to test it because I know of a site that lists a lot of other colours. I've always just used that and copied the number for the BB Code. I already know that I would prefer the larger list of colours.

However, I think other people should test it if they're unsure. Even if they're dead-set against it, I think it would be a good idea to give it a chance before they bash it, just in case it could serve to change their minds. ^^_^^

Kathryn Lacey

★ Administrator ★





Join date

: 2009-05-28






Posts

: 6968



---
Permissions in this forum:
You
cannot
reply to topics in this forum